DirectCommand ISO
DirectCommand ISO has AutoSwath control for up to 36 boom sections. It has pressure and flow based controls, monitors droplet size and maintains spray patterns with pressure monitoring. DirectCommand ISO works on all UT capable displays.
DirectCommand ISO NH3
This system monitors the liquid vs. vapor state of NH3. The TubeCheck provides a safe and quick solution to check for plugged knives.
DirectCommand Spinner Spreader
The DirectCommand Spinner Spreader has a highly responsive spinner speed control and allows for the simultaneous application of up to five products. It has the ability to create prescription VRAs and can easily create and edit product blends.
DirectCommand Granular Strip-Till Control
This product and control up to 3 granular products at a time and can add either NH3 or liquid control. The DirectCommand Granular Strip-Till Control is prescription capable for all products.
DirectCommand Smart Reports
Reports provide your field and product information, an application map, information on weather and soil conditions and other valuable information.
Displays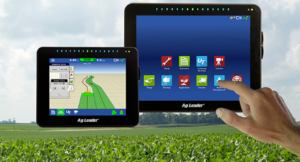 Command the best! The InCommand 1200 is the most powerful, versatile, easiest to use precision ag display on the market. Great features like split screen capabilities, advanced planter monitoring and control with row-by-row mapping, an integrated lightbar, and ISOBUS Universal Terminal are all included. By utilizing AgFiniti Mobile and the included WiFi adaptor, you can take your data home with you. Everything the InCommand 1200 offers, helps your business profit and grow.

A simple, mid-level precision ag display that has the power of any other on the market. The InCommand 800 offers awesome ease of use, tablet-like interactions, an integrated lightbar, ISOBUS Universal Terminal and the power to handle the toughest tasks on your farm. With the included WiFi adaptor, take your data with you on the go, and be InCommand of your operation.
SureFire Application Systems
SureFire Ag Systems Starter Fertilizer Systems offers simple, accurate, easy to use fertilizer control systems and that easily controlled by most displays on the market.
The PumpRight
The PumpRight handles larger volumes with no problem! It is great for side dress or strip-till liquid fertilizer application. The PumpRight is reliable, accurate and requires minimal maintenance.
LiquiShift
The LiquiShift provides the widest range of on-the-go rate changes using the LiquiShift VR Controller. It allows for flow increase of 6-8 times the minimum flow. LiquiShift utilizes Metering Tube technology so there are no orifices to plug or to change out. It is perfect for high-speed applications.
The Torpedo
The Torpedo NH3 Control provides accurate rate changes and accurate distribution. It is engineered to meet today's demands for larger equipment and faster application.